Ironman 70.3 Oman : Oman's one of Major sports events.
Ironman 70.3 Oman in 2020 was organized on Friday 21st Feb, 2020, more than 1,000 athletes participated from more than 68 countries in beautiful city of Muscat.
Ironman Race is considered one of the world's toughest athletic challenges, and Ironman 70.3 includes 1.9km swimming 90km cycling and 21km running. Where cut off time is 8 hours and 30 minutes.
Ironman 70.3 Oman Registration :
Registration was announced in 2019 link was open. I registered for the event in October 2019 when it was announced that only 100 entries are left. The official link for registration for this event is here
Ironman Oman 2020: Race pack Collection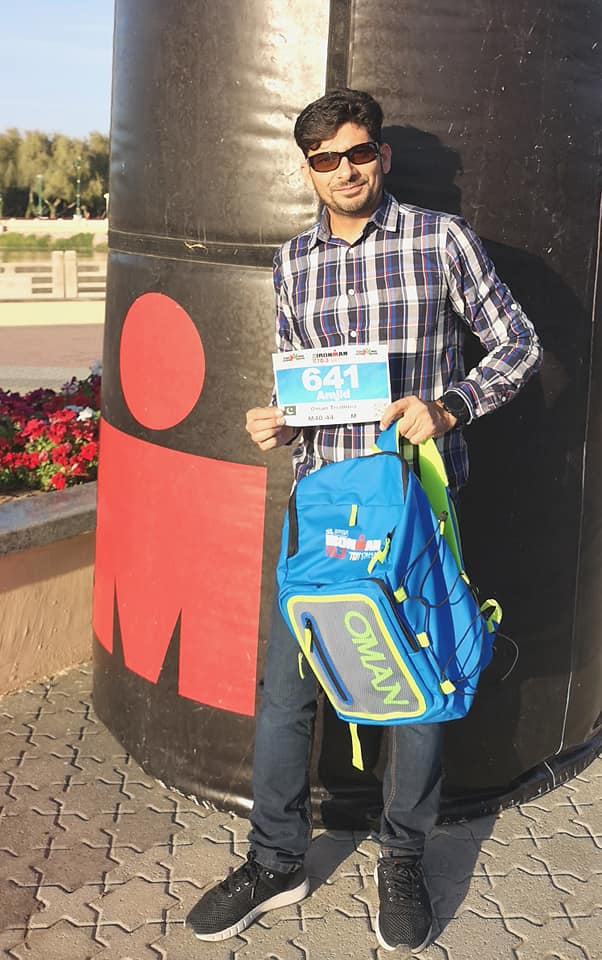 One of the exciting moment for every triathlete who participates in this race is the "race pack" that includes the goody bag, the head sweat running hat, the race bib, 3 Plastic bag (Red for Run, Blue for Bike and White for the dress to wear after race), race number tattoo, and race number stickers for bags, bike, helmet and spectators.
Mainly the color and design is always concern of the triathletes and same was for me. Though I didn't like the color this time, I expected dark colors as it can be used during travel. You can see the picture and you will realize why I said this.
Overall the bag was good. I collected race pack with my friends on Wednesday 19th Feb, 2020
Race briefing and Pasta Party
Wednesday 19th February, 2020 at 6:00 pm entry to the Pasta Party and race briefing was open. Qurum Garden in Muscat is a Natural park which. This is never to miss event and we say it carbs loading and race briefing. When I arrived the venue there were many triathlete having their dinner and waiting for the race briefing. And I was waiting for my buddies and the participants from my club "Oman Triathlon Club".
We all were sitting together for the race briefing.
This event is in fact the best way to socialize with many triathletes around the world. And to know each other before the race.
I met almost all the Oman Triathlon Club's members and my friends and at the same time met some new faces and made some new friends.
Bike Check In
Next major task before the race is bike check in. That starts usually one day before the race day. Where triathlete check in the Red bags with running gears, blue bag with bike gears and the bike in transition area. Here you have to make sure your bike is no mechanical issue and is in good condition for race.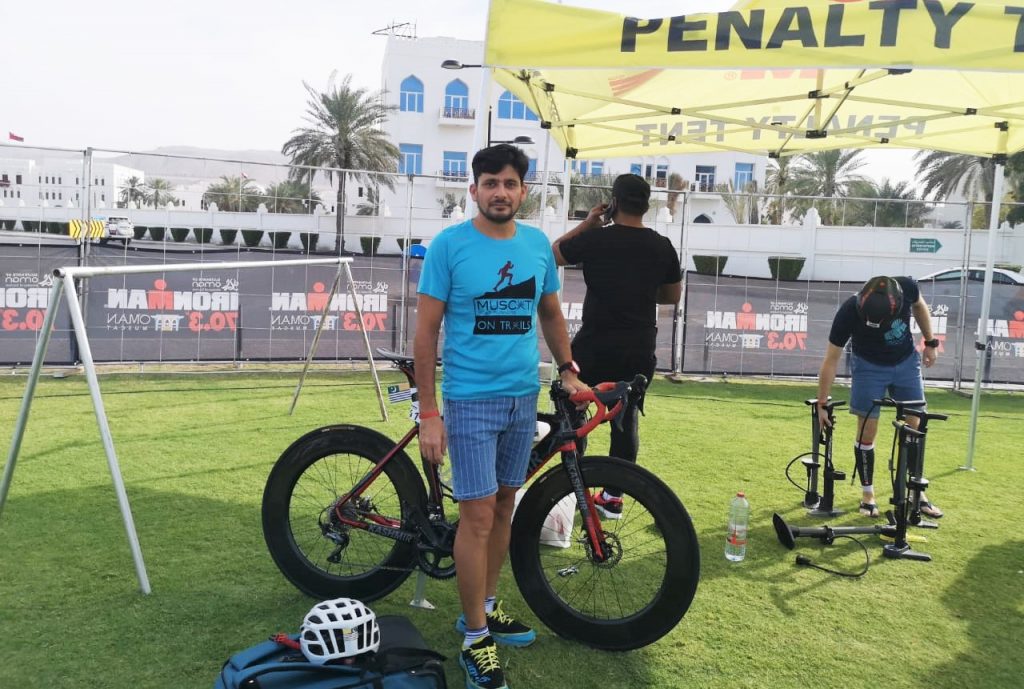 Volunteers will check the bike. You must have race number on your bike and helmet. Taking helmet is mandatory to the bike check in where you need to ensure the race number sticker is on bike, helmet , blue and red bag. Volunteer will also check the race bib.
I did check in on Thursday 20th February, 2020 where I checked in bike, run bag and bike bag and ensured bike is in perfect condition for race.
The Race Day
Ironman 70.3 Oman race day started by 5:00 morning where transition area was open for triathletes. I placed water bottle in the bike. Checked the gears once again ensured if anything was missing I put them in the relevant bag.
I fixed energy gels on the bike using cello tape. And left the transition area. As transition area had to close at 6:00am.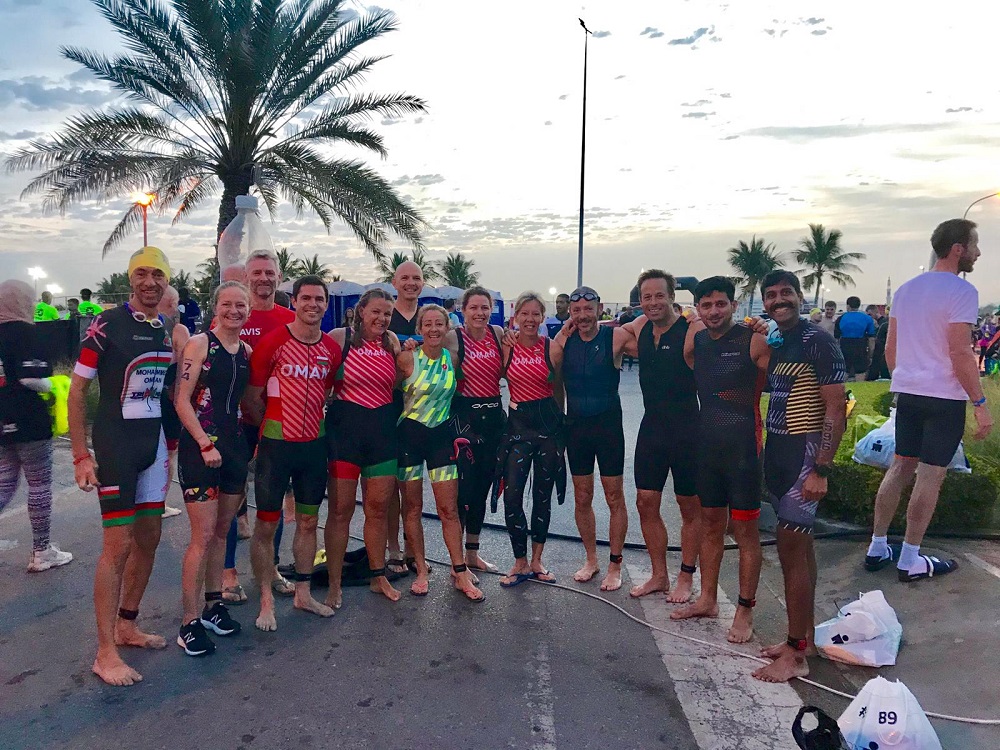 Race had to start at 7:00 am, so we had 1 hour. This was a good time to again socialize and meet all the friends, have your best photos for the social media, not just with the participants but with your family members and friends who are there to cheer you up during the race with many other spectators.
We did a swim practice too before the race start and finally assembled at the designated area for swim start.
Ironman 70.3 Oman: The Race
Ironman 70.3 Oman started at 7:00 AM with 1.9km swimming in ocean "Qurum Beach", 90 km cycling around beautiful city of Muscat, and 21.1km running in Qurum area and Qurum Natural Park.
Swimming
The first event in the race is swimming, which was One-loop 1.9 km (1.2 mile) ocean swim in Qurum Beach. This Year I did my PB in swimming 39:22 where as last year in 2019 in same race I did my swimming in 46:13. This was a good improvement and there were many reasons behind this.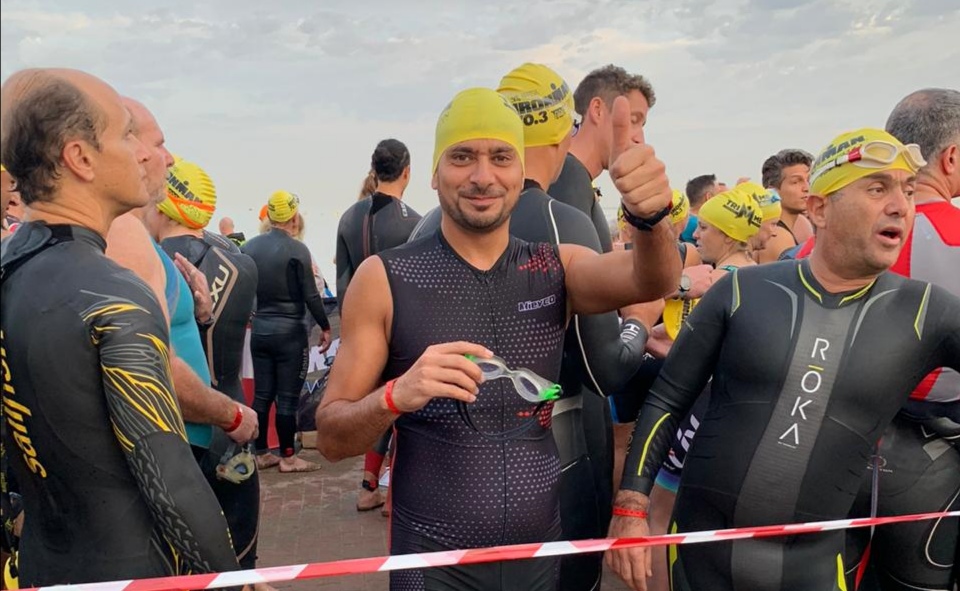 First of all the swim conditions were good. Water temperature was reasonable but at the same time I did much more training for the swimming since last race. More than 350 km swim training in 1 years helped me to apply many new techniques.
Cycling
Immediately after completing the swim I headed towards transition area took my bike gears and got ready for the bike. My transition for bike was 1 minute faster than last year i.e; 4:14. Started my bike where all the cyclist had to do a 90 km-long course passing through some of Muscat's landmarks, including Mutrah Gate, the Mutrah Cornish, Muscat Gate, Al Alam Palace, Bandar Al Rawda bay, and the Royal Opera House Muscat.
The bike course was rolling hill, where the hardest climb was Al Bustan to Wadi Al Kabir and a long climb towards Al Amerat. But over all the course was scenic and great. We all loved it.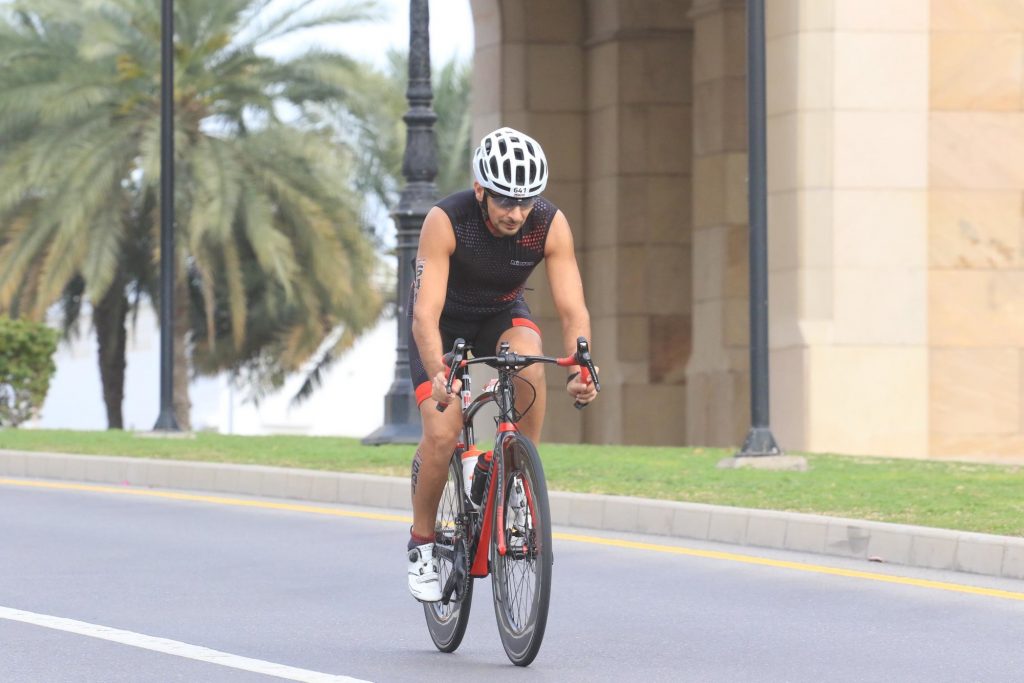 I completed complete course in 3:16:58 which was just 4 minutes faster than last year and the reason was that my major focus during training remained swimming, and I couldn't do much training on cycling. But I am still satisfied.
Running
Running a Half Marathon 21.1 km after Swimming and Cycling is really a hard job. But running for the first fitness activity which I started 5 years ago. Though I am not the best runner but I am not the worst too.
I had good running practice and running after cycling was not very difficult for me. Of course energy diminishes but energy bars helped me to remain active on the running course.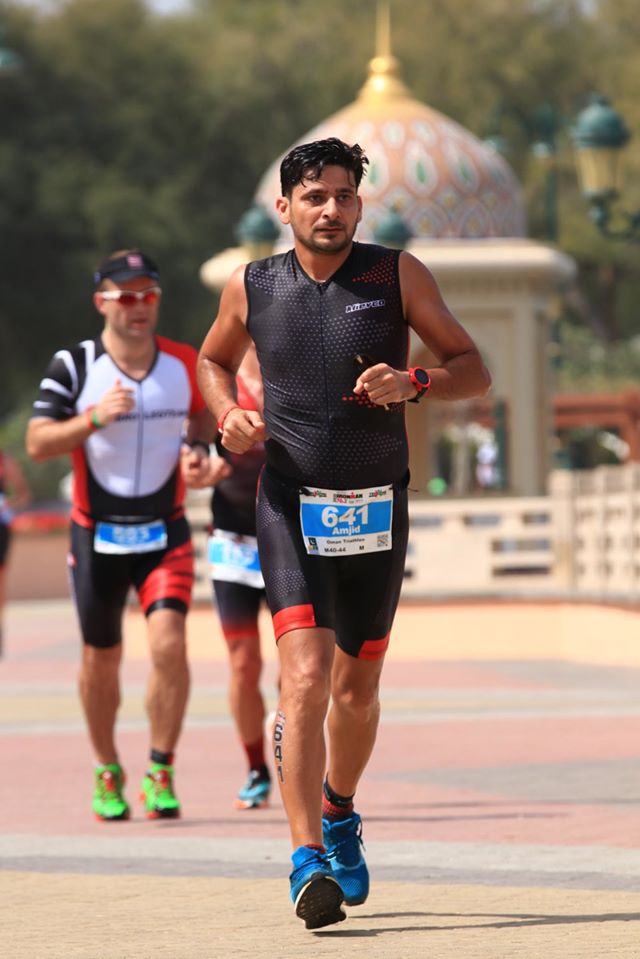 I was very comfortable during 1st 10K of the run, but 2nd Half became hard due to hot weather. But running course was through the garden which helped.
The running course was 2 and Half loops of Qurum Park. Where triathletes started from Transition Area and moved towards Qurum Park and then back to Love Street and then after completing two laps back to Qurum Park towards the finish line and Athlete Garden.
Race Finish
Approaching the finish line where every one is there to celebrate your achievement with you. Your fellow triathletes, volunteers, friends and Family. This moment is exciting when you feel you have done something great.
I completed my Ironman 70.3 Oman in 6 hours 14 minutes in 2020. Which was 13 minutes faster than Last year. 2 Races and both in Oman.
Ironman 70.3 Results 2020
If you are one of the participants reading this blog or you want to see the result. Please click here.
Ironman 70.3 Salalah
Salalah, the heart of the Dhofar and most attractive city in Oman. Salalah is Oman's top hotspot for tourists and is famous for its summer season, when the city turns completely green and makes you forget that you're in the Arabian region. This Year 2020 Oman is hosting another Ironman 70.3 in Salalah on 18th September, 2020.
Registration is now Open. If you want to register you can do it here
Special Thanks
The race is not easy one. It needs commitments and training. And training needs and good plan and good plan needs planners. I will thank my Clubs for this "Muscat Road Runners" and Oman Triathlon Club. Who always supported all the members.
Ahmed Al Malki the Chairman of Muscat Road Runners and Suleman Al Alawi for keeping the Oman Triathlon Club active through the year.
Thanks to all my friends who were training with me.
Thanks to Ironman and Ironman Oman Team, Muhammed Obaidani and Ali Tamimi and all the Volunteers.
About Author : I am Amjid Ali , and IT Professional working in Muscat, Oman.