Book of Titans
Rise the Power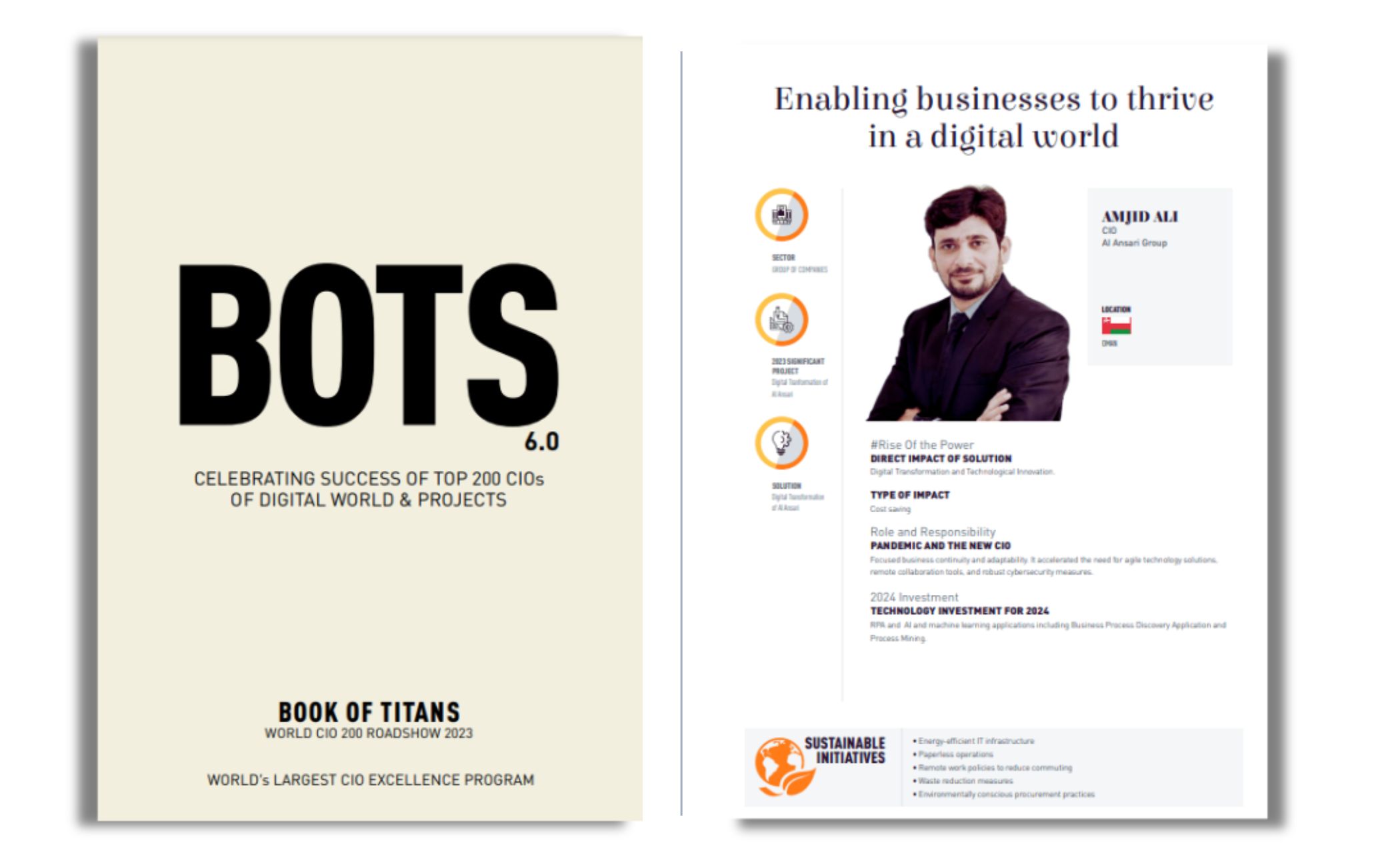 Honored in BOTS – Celebrating the Top 200 CIOs in the World
I am thrilled to share a moment of great honor and recognition – being featured in the esteemed book "BOTS," which stands for "Book of Titans." In its 6th edition, BOTS is a prestigious publication that celebrates and showcases the exceptional achievements of top Chief Information Officers (CIOs) from around the world.
What is BOTS (Book of Titans)?
BOTS is not just a book; it's a testament to the dedication, innovation, and leadership of CIOs who have consistently driven transformative change in the digital landscape. This publication serves as a global platform for acknowledging the visionary leaders who have played a pivotal role in shaping the future of technology and business.
Each edition of BOTS highlights the accomplishments and stories of the world's top 200 CIOs who have demonstrated excellence in their respective fields. These leaders have been instrumental in leveraging technology to drive innovation, optimize operations, and navigate the complexities of our ever-evolving digital world.
A Celebration of Transformation:
The theme of this year's BOTS edition, "Rise of Power," resonates deeply with the transformative journey we've witnessed in recent times. CIOs have evolved into architects of change, guiding organizations through unprecedented challenges and opportunities. It's a testament to our collective strength and resilience.
I am profoundly grateful to BOTS and its recognition of the global impact of technology leaders. This acknowledgment would not have been possible without the unwavering support of my colleagues, teams, and mentors who have been instrumental in our journey of digital transformation.
As we continue to celebrate the recognition in BOTS, I remain committed to driving innovation, fostering collaboration, and contributing to the ever-advancing world of technology. Together, we are shaping a brighter future through the power of innovation.
Once again, I extend my heartfelt thanks to BOTS for this recognition and to all of you who have been a part of this incredible journey.
Feel free to use this content and insert the screenshot image where indicated to create a dedicated page on your website to showcase your mention in BOTS and provide information about this prestigious publication.